Rotating Tower with Changeable Inserts
Rotating Ring Tower and Case
Includes 8 inserts, lock, and 2 keys.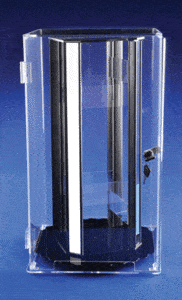 Name
H
W
D
Price
Notes
Buy
CPDCR
20
12
12

$

432.56
This unit has 8 gray ring inserts, allowing 288 rings. Locking case protects rings
Double Locking Door Case
This case has five angled shelves with a 1″ lip. There are doors on both sides of this case, and the case revolves on a lazy susan base. Two locks and four keys are included.
Name
H
W
D
Price
Notes
Buy
LRC22
22
13 1/4
7

$

286.28
This locking cabinet is designed to hold 120 standard ring boxes or watch boxes . The cabinet has five V-Shaped angled shelves with a 1" lip. Comes with 2 locking doors and rotates on a 12" lazy Susan base
Rotating Ring Towers
Rotating ring tower with inserts. This small footprint display allows you to place a large amount of inventory in a small space. Attractive acrylic mirror located on the corners, helps to catch the customers attention. Item CPCR2 is our half-size unit and holds 144 rings in 4 inserts. Item CPDCR1 (pictured) has two tiers with a total of 8 inserts and holds 288 rings. Inserts and cases are sold separately.
Name
H
W
D
Price
Notes
Buy
CPDCR1
20
12
12

$

353.94
Display and locking case. Cam lock and two keys are included. Price does not include inserts. You will need to pick out a combination of 8 inserts shown below to complete unit.
CPDCR2
10
12
12

$

266.16
Display and locking case. The 4 sides of this display will accommodate gray foam ring boards or acrylic inserts with J-bars. (Only the 1 1/2" hooks can be used with the J-bar inserts when inside the locking case). Pick 4 inserts from below. Price does not included inserts.
CPD1
19 1/2
7 1/2
7 1/2

$

113.25
Price does not include inserts. You will need to pick out a combination of 8 inserts to complete unit
CPD4
10 1/2
7 1/2
7 1/2

$

67.92
Price does not include inserts. You will need to pick out a combination of 4 inserts to complete unit.
CPDR
9 1/2
4 1/2
3/4"

$

14.17
INSERT - Foam ring insert with 36 slots.
CPDJ3
9 1/2
4 1/2
2

$

14.17
INSERT - Black acrylic insert with three J-Bar strips comes with 6 acrylic J-bar hooks 1 1/2" long
CPDJ2
9 1/2
4 1/2
2

$

9.51
INSERT - Black acrylic insert with two J-Bar strips comes with 4 acrylic J-bar hooks 1 1/2" long