Ring clip displays are made in clear acrylic, black acrylic and frosted acrylic. Part names ending in B denote black acrylic and F denotes frosted acrylic. (Not all products are available in all finishes.)
Ring Clips
In sparkling clear or shiny black, these ring clips are made with a tough material that stands up to frequent use. Sold individually or in boxes of 288.
Ring Clips Attached to Squares
With ring clips attached to squares of 1/4″ thick polished acrylic, you get extra stability for larger rings. Your choice of clear, black, or frosted.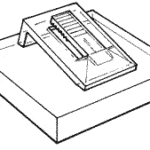 Ring Clips Attached to Columns
Ring clips attached to a different height of polished acrylic column will add accent to ring displays.
Ring Clip Ramps
An ingenious way to display a number of rings, this ramp has six slots that hold ring clips in place. Depending on ring size, each slot will hold up to 7 rings across. Ring clips – Sku GPT – are sold separately (see Ring Clips above).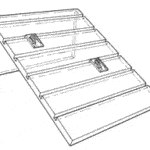 Joined Heart Ring Clip Displays
Two joined hearts are cut from 1/2″ thick acrylic and have ring clips attached on top. Ideal for wedding band sets or engagement and wedding ring combinations