Ladder Style Rotating Earring Card Displays
These popular displays for earring or other jewelry cards have ladder-style bars with 9 bars each. Each bar holds four 2″ cards or two 2 1/2″ or 3″ cards. Available with clear or black ladders.
2 ladder racks for hanging earring cards
3 ladder racks in a triangle configuration.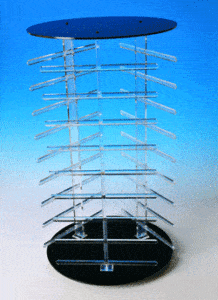 3 ladder racks in a triangle configuration with a locking outer case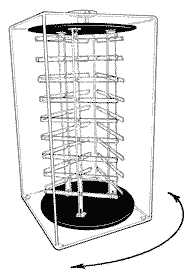 Name
H
W
D
Price
Notes
Buy
LS3CB
21 1/2
12 1/2
12 1/2

$

259.81
Locking case with triangle ladder display. Ladders are black
LS3C
21 1/2
12 1/2
12 1/2

$

263.64
This security display includes one triangle shaped ladder display inside a locking clear case. Top handle is used to turn the earring spinner. Comes with cam lock with two keys. The inside display has black top and base with clear ladders
4 ladder racks in a square