Both are adjustable, one with a vinyl-coated wire back, the other injection molded all acrylic.
Wire-Back Folding Easels
An adjustable easel with a vinyl-coated wire back for displaying thicker items up to the measure of the depth. Very popular for displaying books in bookstores and libraries.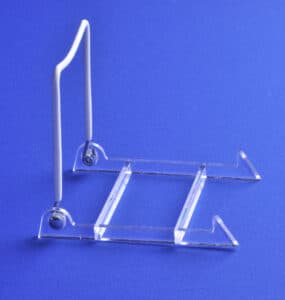 Injection Molded Folding Easels
Adjustable, injection molded folding easels fold flat for packing. By adjusting the upright side, you can change the angle of the item on display.